Amber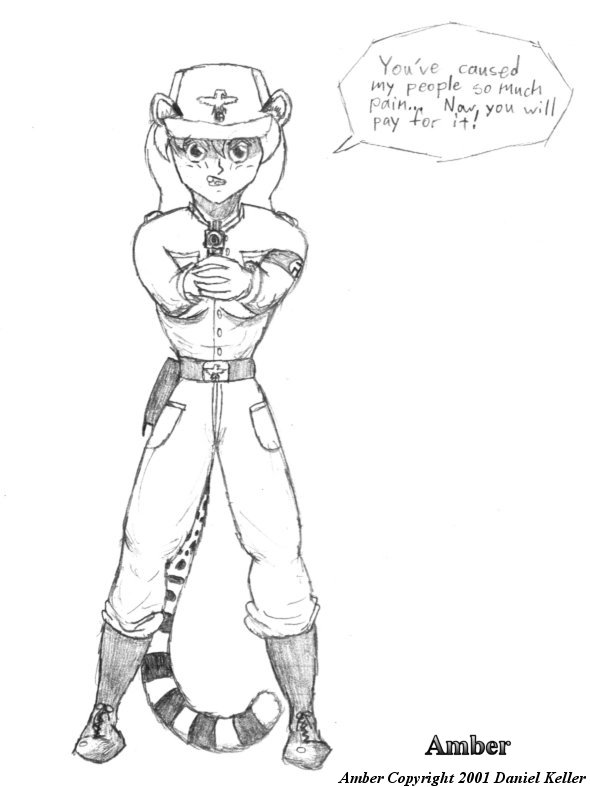 "Now you will pay for it!"
I drew this sketch in a college ruled notebook one day when I was bored. I had been reading Warrior Nun Areala: Silver Cross by Ben Dunn recently so I had neo-nazis (the villains of the story) on my mind. So I decided to draw Amber, an original character of mine, in a stolen Nazi uniform getting revenge against the Nazis for harming her people. I think this sketch turned out really well, and the Nazi uniform (which was originally designed to look intimidating) gives this drawing a very serious tone. As always I believe in Internet free speech, so if anyone finds the Nazi uniform offensive, just don't look at it. I do not support the Nazis or agree with their views. They were, however, a part of our recent history and therefore shouldn't be ignored.
This drawing was done on college ruled notebook paper. For the pencil work I used a .05mm mechanical pencil with 2HB lead. I removed the blue notebook lines and darkened and softened the image with Paint Shop Pro 3.11.
Please e-mail me if you save or copy this picture!
I would love to know that you like it!
All text and original multimedia is © 2001 Daniel Keller. All other information is copyrighted by their respective owners.