Princess Asrial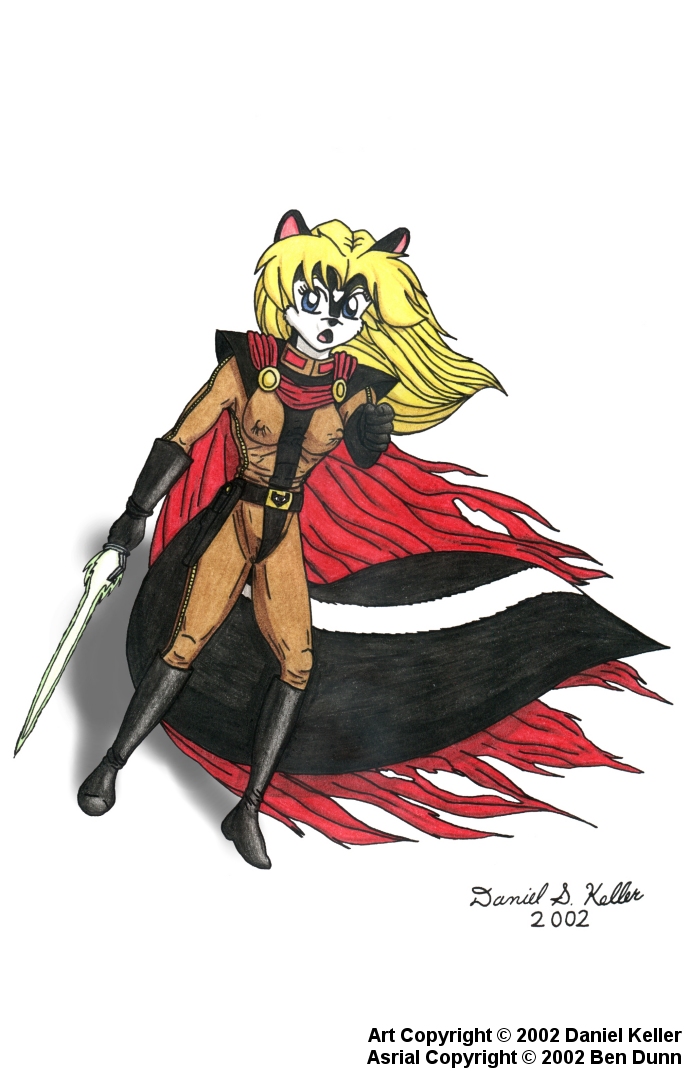 "Give Me My Children Back!"
In the first week of August 2002 I went nuts creating Antarctic Press Annual Issue artwork submissions. I drew a submission for both the Ninja High School Annual #14 and the Gold Digger Annual #8 magazines. You can see my submission for the Gold Digger Annual #8 comic book here. For several days in a row I spent the daylight hours working feverishly in my basement office trying to create two of the best drawings I have ever done. This drawing of Asrial turned out really good, but it is nothing like what I intended it to be!
A few months previously I picked up a copy of Ninja High School #86. This issue had everything: space pirates, rival militaries, a sexy cat girl, TWO sexy skunk girls, some tasteful nudity, and enormous space battles! I was estatic! I couldn't wait for the next issue and to find out what Captain Harlock's special mission was-- a mission that was so important that he had to leave Asrial's daughter in the charge of a pirate princess to carry it out! Unfortunately, I set myself up for a major let down: Ninja High School doesn't stay serious for very long, so Captain Harlock's "special" mission was to judge food on the Earth television show "Battle Chefs". I don't think I would have left the princess I was assigned to protect for that! Despite this let down, I had already found my inspiration for my Ninja High School annual submission, so I went right to work on it.
I have always been very fond of Asrial and her fighting spirit, so I was going to illustrate that in my artwork submission. Asrial was never a character that took things sitting down, so I imagined that if her children turned up kidnapped that she would send out the entire Salusian war fleet to find them. My original grand idea for the drawing was to have Asrial with a tattered uniform and cape on the bow of a Salusian Battle cruiser with it's large guns behind her and an entire battle fleet in the background flying in formation-- a truly awe inspiring scene! Instead of basing the Salusian Battle Cruiser off of Benn Dunn's previous designs, I was going to design a battle cruiser of my own using inspiration from the World War II German Battleship Bismark. I had all of these grand ideas for using multiple layers in Paintshop Pro 7.04 to create dramatic lighting effects and make everything look really top-notch. My grand plans for this drawing eventually fell apart because I drew my submission for the Gold Digger Annual #8 first, so I ran out of time and energy to do all the extra background and computer work for this drawing. As a result my dramtic picture of Asrial became just a pin-up on a white background.
Despite the fact that this drawing is just a mere shadow of what I originally intended it to be, it is still a very good drawing and I am very proud of it. It definitely shows how far I have come with Crayola colored pencils-- just look at the shading on her uniform and the gleam on her gloves and boots. The only computer effect added to this drawing is the grey shadow airbrushed on the white background behind her. Because this drawing was just a pin-up I didn't feel that it had as much of a chance as my Gold Digger Annual Submission had of being published, but I still thought it would impress the people at Antarctic Press. As it turns out my drawing was not printed in the Ninja High School Annual #14, but I gave it my best try. I'll keep dreaming of my space pirate princess skunk girls until it is time to make next year's submission!
UPDATE (10/6/06): This drawing, despite being 4-years old already at the time, was chosen to be one of the few furry drawings to be published in the 2006 Mephit FurMeet X furry convention program book! So while this drawing may never have been published in the Ninja High School Annual #14 comic book that it was meant to be published in, it still has been published in print! Asrial's creator, Ben Dunn, was kind enough to give me written permission to submit this drawing to the Mephit FurMeet convention program book, and I am very glad that the attendees at the convention were able to enjoy it!
The pencil work was done on 80lb. Strathmore meduim-surface drawing paper with a Sanford Col-Erase Non-Photo Blue pencil. I then inked the drawing with several sizes of ZiG Millenniums and Pigma Microns. It was than cleaned up, in Jasc Paint Shop Pro 7.04. I then printed it out on standard Georgia-Pacific FAX/Copy paper and colored it with Crayola colored pencils. It was than re-cleaned up and air-brushed a bit in Jasc Paint Shop Pro 7.04.
Please e-mail me if you save or copy this picture!
I would love to know that you like it!
All text and original multimedia is Copyright © 2002-2006 Daniel S. Keller. All other information is copyrighted by their respective owners.