Nala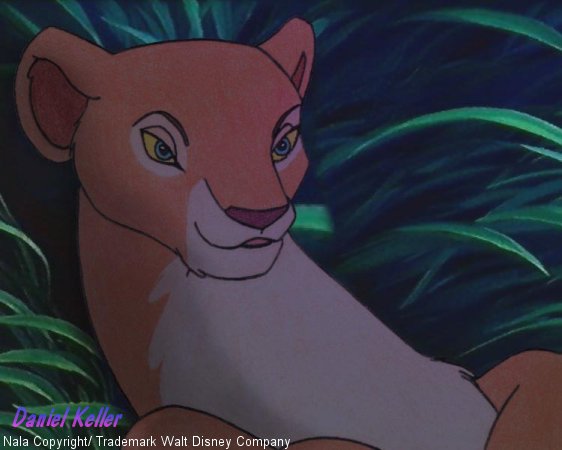 "Can You Feel the Love Tonight?"
I've finally done it. Every once in a while I create a work of art that looks so good that it raises my personal standards to a new level. This is one of those drawings. This image turned out so well that I am very proud of it. This is a drawing of Nala from Disney's The Lion King. This drawing is based on the scene where Simba and Nala are falling in love and tumble down a hill into some long grass together. Simba is having just a good ol' time until Nala "kisses" him and has a very "consenting" look on her face. Any adult will tell you that this scene would be very racy and steamy if done with people actors, but you can get away with a lot with cartoon animals. I'm actually glad that Disney is slipping very adult themes into their movies. It makes the movies entertaining for all ages and also hints at some real life themes for children.
The making of this drawing is a story in itself. The rough pencil work was done on 80lb. medium surface Strathmore drawing paper with a .05mm mechanical pencil loaded with 5H lead. I then went over the light 5H pencil lines with a .05mm 2B pencil to darken them. I left what Disney describes as "self-color lines" on their model cels in light pencil. I then scanned the pencil drawing into Paint Shop Pro 3.11. There I cleaned up the stray marks and shadowed the pencil lines to make them black. I printed this out on standard Georgia-Pacific Fax/Copy paper and colored it with both Crayola colored pencils and Sanford Prismacolor colored pencils. I used a size 03 Pigma Micron to ink the eyes. The colored drawing was scanned into Paint Shop Pro 7.02 where I erased the stray marks and smears. I pasted my drawing onto the background from a Lion King screen capture. I then added lighting effects. Finally I loaded the image into Adobe Photoshop 6.01 and used the burn tool to add the shading.
Please e-mail me if you save or copy this picture!
I would love to know that you like it!
All text and original multimedia is © 2001 Daniel Keller. All other information is copyrighted by their respective owners.