Chuckie Cheetah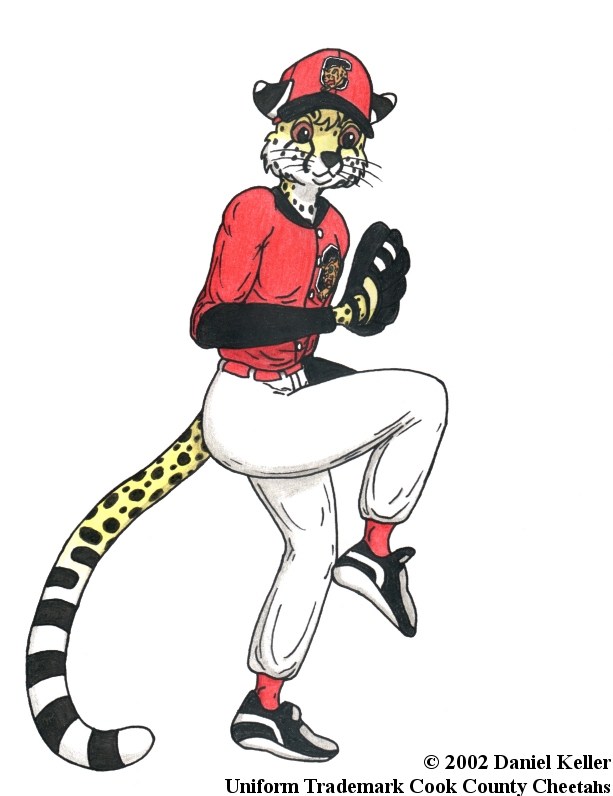 "The Wiley Pitcher"
Over the summer, while I was working at Tootsie Roll, I decided I was going to take on an exploratory summer project. There were two minor league baseball teams that played near my house who were named after big cats. They are the Cook County Cheetahs and the Kane County Cougars. Since I had drawn a lot of cheetah furries lately I had decided that it might be a good idea to actually draw a cheetah furry in a Cook County Cheetahs uniform. Since the Cook County Cheetahs were a small independant organization, I decided it might be worth my wile to send my cartoon cheetah to them to see if they would like to buy it to put on their website or their merchandise. If all went well I would try to do the same with the Kane County Cougars.
When I thought about what it would be like to have a cheetah furry playing baseball I didn't think of the cheetah being an overpowering "gas house gorilla" of a player. Instead I thought of him as being more swift and cunning, using finely tuned skill instead of pure brawn. Slowly the image of a cheetah starting pitcher formed in my mind and overpowered my other ideas such as having a cheetah batter sliding into home plate. I thought a pitcher would be perfect because of the unique pose the character would be in. Everyone would instantly recognize the pitching wind-up stance and know that this cartoon character was a baseball player. In addition, the pose is very dynamic instead of just haveing a static player standing around.
I was extremely proud of this picture when it was finished. I showed it to all of the people in the IT department at work and lugged it around town with me to show to friends as I saw them. I sent it to the Cook County Cheetahs via e-mail and their webmaster obviously liked it too, for I received a phone call about it a couple of days later. Their webmaster loved my cartoon character and was going to ask her supervisor if she could use it to replace a photo of "Lucky Chucky Cheetah," the team's mascot, on the title banner of their website. I couldn't believe it! For once my hard work and prospecting had paid off! I waited on the edge of my seat for the Cook County Cheetah's webmaster to call me back with the news of what her supervisor told her, but the call never came.
After about a week I decided to e-mail the team to find out what their decision was. Eventually I got and e-mail response from the General Manager of the team. It read:
Daniel,

We really can't use the cartoon this year.

Chuck Heeman, General Manager
Cook County Cheetahs Baseball Club
I was really disappointed with the news. I guess the current webmaster for the Cheetahs was too, because I got a separate e-mail from him the next day. I believe this is a different webmaster than the one who I spoke with the first time. In any case, he was definitely sympathetic:
Daniel Keller,

The resizing is finally done!
I'll write Scott "pr" about you. I love the idea of a cheetah archive/ art gallery. It makes my job more interesting and can be a way for the site to evolve over time. How about a link to your home page?

Thanks for the interest & I like the cheetah in Berlin.
Randall webmaster @ gocheetahs
(The "cheetah in Berlin" he is speaking of is my drawing "Cracked and Torn.") I haven't heard anything from the team since. It was cool that they almost used my cartoon character for their website. My sucess inspired me to try to design a character for the Kane County Cougars as well to see if I would have any luck with them. I am just now allowing the public to see my cheetah pitcher. While I was trying to sell hime to the Cook County Cheetahs I kept him secret and off the Internet to make sure I wouldn't get bogged down in any legal issues in case the baseball team didn't appreciate my drawing their uniform and logo. You can visit the Cook County Cheetahs website here. If you like him please e-mail me and let me know!
The pencil work was done on 80lb. Strathmore meduim-surface drawing paper with a Sanford Non-Photo blue pencil. I then inked it with a size 05 ZiG Millennium pen. It was than cleaned up and darkened in Jasc Paint Shop Pro 7.04. I then printed it out on standard Georgia-Pacific FAX/Copy paper and colored it with Crayola and Sanford Prismacolor colored pencils. The lettering was done with Paint Shop Pro 7.04.
Please e-mail me if you save or copy this picture!
I would love to know that you like it!
All text and original multimedia is © 2002 Daniel Keller. All other information is copyrighted by their respective owners.