Dixie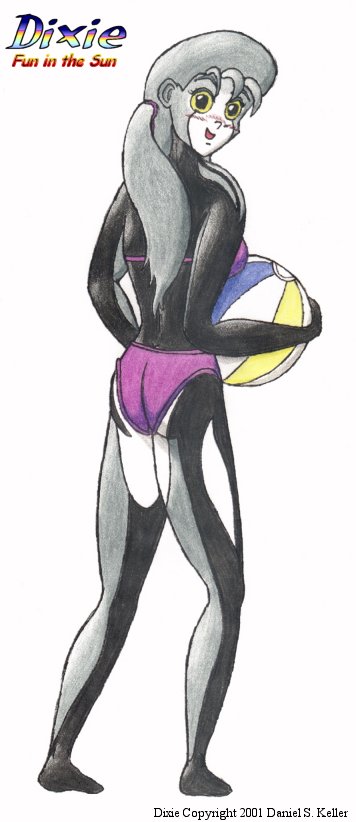 "Fun in the Sun"
I drew this picture of Dixie when I had wishful thoughts of summer stuck in my mind. Dolphins are known to be very playful creatures, and I wanted to show how playful Dixie could be. During the time period of this drawing many of the Fred Perry Fan Club members were spitting out sea-related characters, so I tossed this one into the fray. To my surprise it was very well received and I even had a person (Kilowatts) ask if he could draw her. Honored but uneasy at the same time, I reluctantly agreed to let him draw her. You can see his drawing in the Guest Art Gallery.
This drawing was done on 80lb. medium surface Strathmore drawing paper. For the rough pencil work I used a .05mm mechanical pencil with 5H lead. I used 2HB lead for line darkening. The result was cleaned up and darkened with Paint Shop Pro 3. The print out was on standard fax/copy paper and was colored with Crayola colored pencils. The lettering was added with Paint Shop Pro 7.
Please e-mail me if you save or copy this picture!
I would love to know that you like it!
All text and original multimedia is © 2001 Daniel Keller. All other information is copyrighted by their respective owners.