The Mara Huntress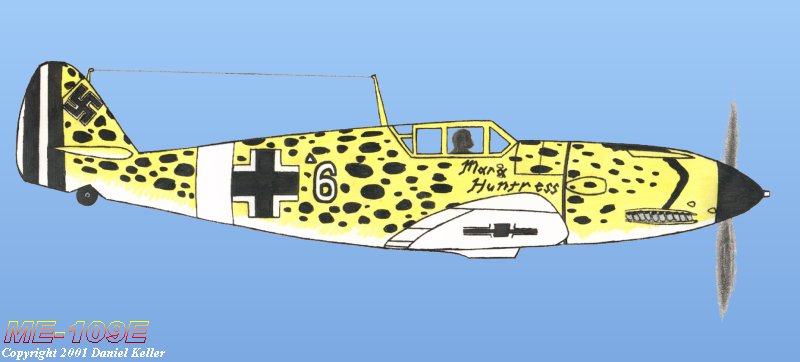 "The Mara Huntress"
This is one of the three airplanes my GD2K MUSH character, Zap Osborne owns. I came up with the idea for airplane after I had submitted my character application, therefore this airplane will not be flyable so that I won't radically change Zap Osborne's abilities. Instead he'll fly the Blue Blooded Beauty and the Amber Eyes, which were the first two planes I developed for him and are on his character application. Originally he was only going to have the first two aircraft, but then I came up with the idea of the Mara Huntress so I knew I had to fit it in somewhere. For the role playing game I'll have Zap, who's a pilot for hire, put a good deal of his pay check into restoring this aircraft, which would make only the two original planes that the GD2K staff know about flyable. Perhaps as the MUSH progresss he will eventually completely restore the plane.
The story behind the "Huntress" is that Zap spotted this old weather beaten ME-109E in the Sahara Desert of Africa while on one of his cargo runs. He noted the location of the wreck, and when he was done delivering his cargo he came back to salvage the plane. Zap soon discovered that this bullet ridden plane was a Messerschmitt 109E "Emil," part of the German Afrika Corps JG-27 squadren that was based in Libya in late 1942. Since he brought this fighter back home on a cargo ship he's been putting much of his paycheck into getting her flying again. The cheetah paint job he gave the "Huntress" fit the plane's characteristics: a swift desert predator. He decided to leave the original Luftwaffe markings on the plane not because he is a Nazi, but more as a reminder to the plane's past and as a homage to the young pilot who (died?) flying her back in World War II.
Specifications:
Type: Single seat fighter/ fighter-bomber
Powerplant: One 1,300 hp Daimler-Benz DB 601E inverted-V-12 liquid-cooled engine
Wingspan: 32.4 ft
Length: 28.3 ft
Height: 7.5 ft
Weight: 4,330 lbs.
Maximum Speed: 390 mph
Climb: 3,100 ft/min
Ceiling 38,000 ft
Range: 350 miles
Armament: Two 8mm cannon MG-17 machine-guns above engine, one 20mm MG-151 cannon in propeller hub
This drawing was made on 80lb. Strathmore medium surface drawing paper. I used 2HB and 5H leads in a .05mm mechanical pencil for the pencil work. The pencil drawing was then scanned, cleaned up, and shadowed in Paint Shop Pro 3. The print out was colored with Crayola colored pencils. The spots and other ink work was done with a black 08 Pigma Micron. The coloered drawing was then scanned back into the computer. The lettering and background was done with Paint Shop Pro 7.02.
Please e-mail me if you save or copy this picture!
I would love to know that you like it!
All text and original multimedia is © 2001 Daniel Keller. All other information is copyrighted by their respective owners.