Zap Osborne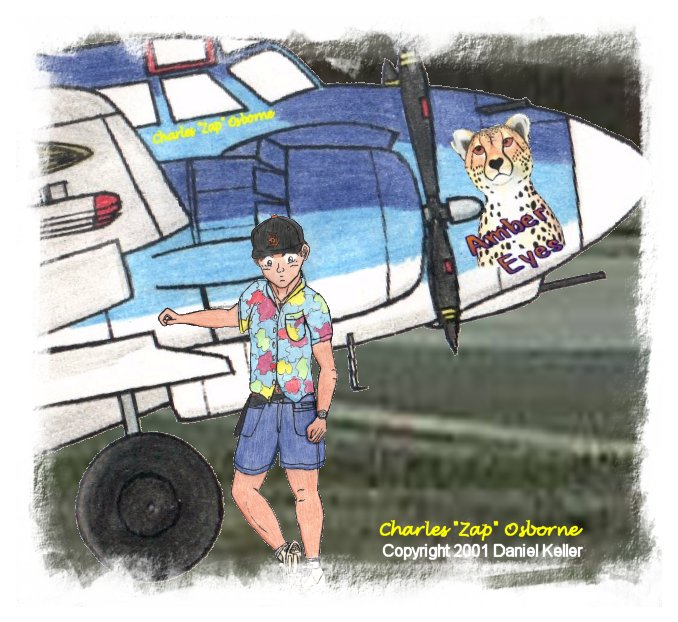 "Zap Osborne"
"I grew up in Detroit, Michigan. I never really liked it there. I always thought it was way to cold and polluted. The fact that the Detroit river has concrete banks always bothered me. So I decided to get away from it all and see the world. When I was 18 I signed up for one tour of duty with the U.S. Navy. They taught me to fly, and after my tour I became a cargo pilot for hire near my old base on Hawaii where it was warm and full of wildlife. I had to leave Hawaii and move to Atlanta however, because business was bad, my gambling debts were high, and I heard that Atlanta's economy was booming. Atlanta's no Waikiki, but at least it's warm. In my trips with the Navy I saw interesting places with interesting things which caused me to develop a love for finding antiques and treasures. My love for antiques is reflected in my choice of aircraft, which are both over 50 years old. I go treasure hunting whenever I have the money to do so. My adventures take me to all of the corners of the globe."
That passage comes from Zap Osborne's official GD2K profile. GD2K, which stands for "Gold Digger 2000," is an online role playing game based on the world of Fred Perry's Gold Digger comic book series. I designed Zap and all of his planes especially for the game. It was the largest art project I had attempted in years, and involved drawing 6 six pictures including Zap himself, 3 airplanes, 1 Amber the Cheetah, and 1 Duchess (for airplane nose art). It took me most of the summer to finish because I had little time to devote to drawings because of my full time trucking job. All of that exhaustive work, and at the time of this writing I haven't even role played with the character yet!
Because Zap Osborne is a character for a Fred Perry based role playing game, I decided to mimic Fred Perry's drawing style when I designed him. Fred Perry's style (at least my interpretation of it) is very quick and easy to do, at least the head and face part of it. This isn't meant to be an offensive remark- it just shows that his style is very quick and efficient. This drawing took the least amount of time out of all of the drawings in this project.
This drawing was made on 80lb. Strathmore medium surface drawing paper. I used 2HB and 5H leads in a .05mm mechanical pencil for the pencil work. The pencil drawing was then scanned, cleaned up, and shadowed in Paint Shop Pro 3. The print out was colored with Crayola colored pencils and scanned back into the computer. The lettering and digital effects were done with Paint Shop Pro 7.02.
Please e-mail me if you save or copy this picture!
I would love to know that you like it!
All text and original multimedia is © 2001 Daniel Keller. All other information is copyrighted by their respective owners.