Who is Hoagiebot?
Wanted Dead or Alive:
Dan the Hoagieman
They say that daydreams are the realm of both geniuses and the insane-- in my case probably both. I am a computer programmer, cartoonist, writer, dreamer, and entrepreneur. While most of the people in this world will say "can not," I say "why not?". I suppose that is what makes me so dangerous...
Name: Daniel Keller
Aliases: Danimal, D.K., Heavy D, Big D, D, Vegeta (at Laserquest), Hoagiebot (Online), Hellcat (in multiplayer games), Dan the Great, Dan the Hoagieman
Born: In the 80's, the greatest of all decades!
Race: Androsynth (a race of evil human clones from my favorite computer game, Star Control II)
Location: Usually in the northern half of Illinois, migratory.
Occupation: Founder and Owner of Project Destiny Studios™, a company dedicated to creating the very best in comics, animation, and animatronics!
Music: The Offspring, Skycycle, The Panic Channel, Inspection 12, Just Add Water, Bottle of Justus, The Last Vegas, Ophur, Hoobastank, First Name Basis, Turbulence, Mesa, Pit, Saraphine, Endochine, Yellowcard, Millencolin, Green Day, Blues Traveler, The Beach Boys, and Nirvana. Some songs from the following: STP, Smashing Pumpkins, Tool, Incubus, Alice Cooper, System of the Down, Polaris, Linkin Park, Weezer, Triumph, Ramstein, Megadeath, Zebrahead, Unwritten Law, Fertility, The Last Vegas, Steve Reverb and the Sound Tones, and Slipknot.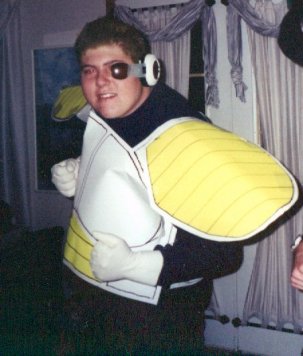 Geek Code (Version 3.2):
GCS/AT d-- s+:++ a-- C++(++++)$ US P+ L(--) !E W+++ N+ o-- K? w+++>+++++ O M-- !V PS+ PE Y++ PGP>++ t+++ 5+ X R>+++ tv b++ DI+ D+ G++ e++ h++ r-- y--*



Furry Code (Version 1.3):
FPr[bionic human mad scientist]c1acdw A++>++++$ C+ D H- M P~+ R- T++ W Z+++ Sm++ RLCT/A a cdwu+++~++++$ d+ e++ f+ h-- iwf+++ j+ p-/++ sm--

Hobbies:
Working on my Foxee™ Animation Project.
Writing fiction
Seeing local rock bands play live
Going to dirt oval track stock car races and demolition derbies
Collecting animation production artwork and furry artwork
Collecting and reading Nature and Natural History books on Cheetahs, Dolphins, and other big cats
Reading history books, especially books on the history of 20th century wars, the computer industry, or the computer underground.
Programming in C++, 80x86 Assembly, VBScript, QBasic, FORTRAN 77, Commodore BASIC 2.0, MS-DOS Batch File Language, Z80 Assembly, TI-83 BASIC, and several web languages.
Collecting pre-1990 microcomputer systems and game consoles
Laser tag at LaserQuest
Playing the Harmonica
Fishing
Collecting Comic Books, Sea Shells, Coins, Stamps, Baseball Cards, STAR WARS stuff, and just about anything else that's collectable. I'm a pack rat!
Collecting old BBS textfiles from the 70's, 80's, and 90's on the computer underground.
Watching cartoons
Soldering Electronics
Amateur Radio (I'm KB9MFT!)
Shortwave radio listening
Favorite Things:
Live Action TV Shows - Big Cat Diary on Animal Planet, Married With Children
Radio Shows - "Off the Hook" with Emmanual Goldstein, "Coast to Coast AM" with George Noory
Movies - Equilibrium, Pirates of Silicon Valley, The Terminator, Stargate, and Aliens
Band - The Offspring
Song - "Lucky Day" from Just Add Water
Cartoon Series - Venture Bros., Rocko's Modern Life, Exo Squad
Animated Short - "Peace on Earth&quot (MGM, 1939), "Bugs Bunny Nips the Nips" (Warner Bros., 1943)
Animated Feature - The Aristocats
Cartoon Character - Duchess from The Aristocats
Animators - Ollie Jonston, Frank Thomas, Rick Reinert
Animation Directors - Hugh Harman, Isadore "Friz" Freleng
Fiction Book - The Time Machine by H.G. Wells
Non-Fiction Book - Gara-Yaka: The Story of a Cheetah by Desmond Varaday
Magazines - 2600: The Hacker Quarterly, MAKE Magazine, National Geographic
Comic Book - Warrior Nun Areala: Rituals by Ben Dunn
Video Games - Star Control II (IBM PC), Atari Missile Command (original Arcade Version), The Legend of Zelda (Nintendo Entertainment System)
Food - White Castles, what I crave!
Drink - Jolt Cola, Green River
Fruit - Taffy Apples
Color - Aqua Marine
Bird - Red Tailed Hawk
Mammal - Cheetahs, Foxes, and Bottlenosed Dolphins
Car - 1982 DMC-12 DeLorean, Porsche 935 Class 5 GT Racer
Airplanes - Lockheed F-80C Shooting Star, Douglas TBD-1 Devastator, Junkers Ju-87B Stuka, Messerschmitt Me-163 Komet, McDonnell F2H-2 Banshee
Computer - my 900mHz Athlon, Commodore 64
Actor - Michael J. Fox
Major League Sports Team - The Chicago Cubs
Favorite Currently Playing Sports Player - Carlos Zambrano (Not just for being a great Cubs pitcher, but for beaning St. Louis Cardinals player Jim Edmonds twice in a single game on July 19th, 2004!)
All-Time Favorite Sports Player - Mark Grace
Favorite Quotations:
"The more you suffer the more it shows you really care."- Dexter Holland
"Shoot for the stars, the impossible, the unknown, it's your destiny."- Myself
"It is not the critic who counts, nor the man who points how the strong man stumbled or where the doer of deeds could have done them better. The credit belongs to the man who is actually in the arena; whose face is marred by dust and sweat and blood; who strives valiantly...who knows the great enthusiasms, the great devotions, and spends himself in a worthy cause; who, at best, knows the triumph of high achievement; and who, at the worst, if he fails, at least fails while daring greatly, so that his place shall never be with those cold and timid souls who know neither victory nor defeat."- Theodore Roosevelt, 1910
"What's a little dried blood on the breadboard? A small price to pay for having some fun with multimeters, logic probes, wire-wrap tools, soldering irons, TTL chips, circuit boards, chip pullers, and straighteners." ... "Tough guys don't code with Visual Studios and Object Libraries. They program their hardware the most efficient and difficult way possible: assembly language."- Steve Wozniac, co-founder of Apple Computer
"Success is a lousy teacher. It seduces smart people into thinking they can't lose."- Bill Gates
"It is difficult to say what is impossible, for the dream of yesterday is the hope of today and the reality of tomorrow."- Robert Goddard
"Somehow I can't believe there are many heights that can't be scaled by a man who knows the secret of making dreams come true. This special secret, it seems to me, can be summarized in four C's. They are Curiosity, Confidence, Courage and Constancy, and the greatest is Confidence. When you believe a thing, believe it all over, implicitly and unquestioningly."- Walt Disney
"Out of all the things I've lost, I miss my mind the most."- Ozzy Osborne

Current Status: AT LARGE!




Photo Gallery

2002 Photos

Me in a group shot with the band "First Name Basis" at their September Friday the 13th show at Lacrosse House. This band was awesome- I hung out with them for at least two hours after the show, and got to go backstage with them. Most of the band members currently attend ISU so I see them occaisionally on campus. I can't wait to see these guys play again!

This is Mark and Joey from the cool band Bottle of Justus hanging out with me in between sets at their 501 Maple Show during the first weekend of fall semester. The band played everything acoustic that night, and it turned out to be one of the greatest concerts I have ever been to.

I finally got a comic strip in a newspaper! Here I am holding up the first issue of the Illinois State University Daily Vidette that features my comic strip "Tiggerman™." Tiggerman™ runs two days a week every week in the school paper. You can see the strip on the page I am holding up: it's just above the "Free Tan" and "Job Fair" ads.

"Lucky Chuckie Cheetah" and I are chillin' at a Cook County Cheetahs game at Hawkinson Ford Field in Crestwood, IL. Little did Chuckie know that one of my cartoon characters almost got bought by the baseball team to replace his image on their website! I got my photo taken with Chuckie and with a Hooter's waitress during that game. Obviously, only Chuckie is cool enough to make it onto my website!

Here I am posing with the band Bottle of Justus after their Milwaukee Summerfest show. All the members of the band are really cool. See, I do get out of the house and do something cool every once in a while!

Here I am in front of Buckingham Fountain in Chicago's Grant Park during the Chicago Blues Festival. As you can tell, I also saw a Cubs game that day!

Here I am hangin out at the ISU Lacrosse House with Erin, the merchandise girl for the cool band Just Add Water. See, this proves that I get out of my dorm room! I downloaded this photo from the Just Add Water website.

Me with my first commissioned drawing. I drew Vicki Fox for her creator over winter break of 2001/2002. This photo was taken in my bedroom at home. You can see one of my Duchess production cels to the right of me on my wall, and even further to the right is a photograph of the ill-fated Space Shuttle Challenger, which my parents bought for me as a souvenir from the Kennedy Space Center back in 1984.

All text and original multimedia is © 2002-2007 Daniel Keller. All other information is copyrighted by their respective owners.